Sweater Anybody?
This Gap sweater has been lying around in our place for a little while now and nobody has claimed it. Is it yours?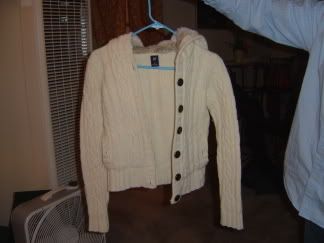 In related news, I was going to post a picture of me smiling with a glass of sex on the beach because I had just recently tried to make it using homemade mango flavored vodka. I had Alinna do a blind taste test with two identical glasses of sex on the beach only one used mango flavored vodka and the other regular vodka. In the two person test panel, it was a unanimous vote. Mango flavored vodka wins. How is this related? I was going to post the picture of me with the winning drink. Unfortunately, I'm still trying to figure out how to use this Mac and in the process accidentally deleted the picture. Luckily the picture of the sweater was spared.
This week in fantasy baseball: Losing to Minho 1-8
The South Bay Craigslist Finds of the Morning
1.
Wood Desk
$50 (Palo Alto)
2.
Wood Cupboard
$10 (Mountain View)
3.
Fireplace Tools
$20 (Cupertino)
4.
Iron Book Display Rack
$5 (Menlo Park)
5.
Kenmore Refridgerators
$100 & $75 (Palo Alto)
And for kicks... wouldn't this be cool in your place? Your very own
diner booth
. Only $60 at Sunnyvale.